The Chinese people have been contributing to Canada since the first group of Chinese laborers arrived on Canada's west coast in the 1700s. The first large groups of Chinese workers appeared during the Fraser Canyon Gold Rush in the 1850s and their numbers grew with the construction of the Canadian Pacific Railroad. Along with their skills and work ethic, the Chinese also brought their food with them.
Today, you can find Chinese restaurants in even the smallest of towns all across the Great White North. Most supermarkets have food sections that offer all the ingredients needed to make your favorite Hakka and traditional Chinese food. Canadian Chinese food appeals to all types of foodies. While many healthy Chinese food dishes contain meat, there are plenty of delicious vegan offerings.
Here are 10 famous and flavorful Chinese food dishes that will tantalize your taste buds.
Chinese food dishes
1. Sweet and Sour Pork
Easily identifiable by its alluring aroma and bright red color, sweet and sour pork is a staple of Chinese cuisine. The key component to this delightful dish is the sauce, which usually consists of pineapple juice, rice vinegar, and brown sugar along with a little bit of soy sauce and cornstarch. The bright red appearance is achieved by adding a few drops of food coloring, although this is optional.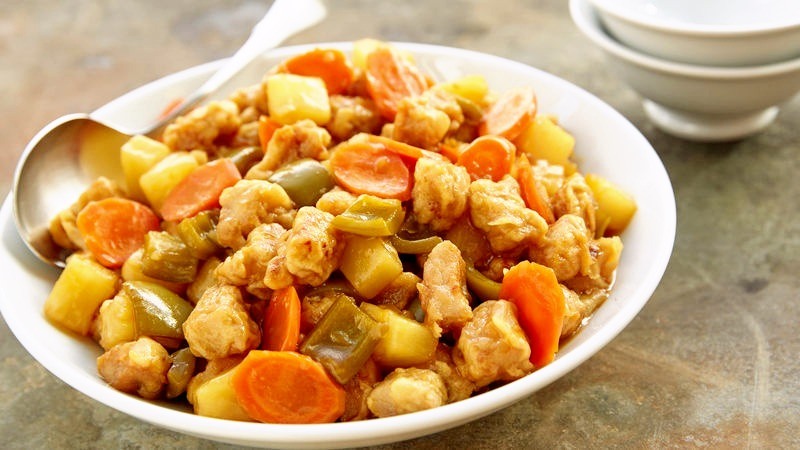 The great thing about this famous Chinese food dish is that you can use some other meats instead of pork. Chicken and beef are particularly popular while tofu can be used to make this Chinese food dish vegan.
2.
Chow Mein
Chow mein is a traditional Chinese food consisting mainly of stir-fried noodles and a mix of vegetables. Additionally, you can add a variety of meat or tofu to your chow mein dish. It comes in two distinct styles. Steamed chow mein is softer while Hong Kong chow mein is crispier. There are also many regional variations.
As with sweet and sour pork, a good sauce can make a world of difference. Typically, chow mein sauce contains soy sauce, oyster sauce, sesame oil, sugar, and spices like white pepper. You don't need to be a whiz in the kitchen to make this healthy Chinese food. Depending on how fancy you want to be, a mouthwatering batch can be ready in about 15 minutes.
3.
Chop Suey
Those who want to spend more time enjoying Chinese cuisine than they should familiarize themselves with chop suey. The origins of this delectable dish might be open to debate, but there is no debating how easy it is to make or how healthy and heavenly it is. Chop suey usually consists of a mixture of vegetables like broccoli, carrots, bok choy, and snow peas along with bite-sized pieces of meat. The colorful mixture is then combined with a savory sauce. The melange of tender meat, crispy veggies, and thick sauce creates a full out feast for the senses.
4.
Wontons
This traditional Chinese food has been around for hundreds of years. While wontons taste great on their own or served on a bed of noodles, they are most commonly associated with wonton soup. Wontons are normally made by wrapping ground pork and shrimp filling in a thin skin made of egg, flour, salt, and water. They are then either boiled or deep-fried. However, the pork and shrimp filling can easily be replaced by a variety of fillings. One wonton variation is crab rangoon which is a deep-fried wonton with a rich combination of crab meat and cream cheese filling.
5.
Fried Rice
It's hard to get jacked up over something as simple as a plate of rice, but many Canadian Chinese food establishments have a knack for making rice very exciting. By adding egg, a few veggies, bits of meat, and a few other common ingredients, you can transform a boring plate of rice into something really special. Even though many people think of fried rice as a mere side dish, it makes for a satisfying, filling, and healthy main course. You can whip some up in a matter of minutes.
6. Sesame Chicken
There are countless Chinese chicken recipes out there, but sesame chicken is definitely one of the most appetizing. Served in Chinese restaurants from coast to coast, this famous Chinese food will suffonsify the heartiest of appetites. It starts with dipping a tender chicken breast into a mixture of egg, flour, and cornstarch. It is then deep-fried to a crispy brown before being slathered with a tangy sesame sauce that is normally made up of honey, garlic, soy sauce, and sesame oil. The finished product can be served alone or over a bed of noodles or rice. Top it off with a sprinkling of sesame seeds.
7. Kung Pao Chicken
No list of great Chinese food dishes would be complete without having Kung Pao Chicken on it. While there are a few different ways to prepare Kung Pow, it is essentially a stir-fry with marinated chicken, chopped nuts, veggies, and chili peppers. Obviously, the easiest way to savor this sweet and spicy concoction would be ordering it at a Chinese restaurant, but it is also surprisingly simple to make at home. Making Kung Pao at home allows you to adjust the ingredients and spices to suit your own palate.
8. Veggie Hakka Noodles
Like many other famous Chinese food dishes on this list, veggie Hakka noodles are easy to make and immensely nutritious. Although the key ingredient is noodles, this healthy Chinese food is loaded with vegetables such as carrots, cabbage, onions, and beans, which are sauteed in a ginger paste. After the vegetables have been sauteed, tomato sauce, chili sauce, and soy sauce are added before the noodles are mixed in. The result is a wonderful taste explosion. Veggie Hakka noodles are the perfect way of getting kids to eat their veggies.
9. Pot Stickers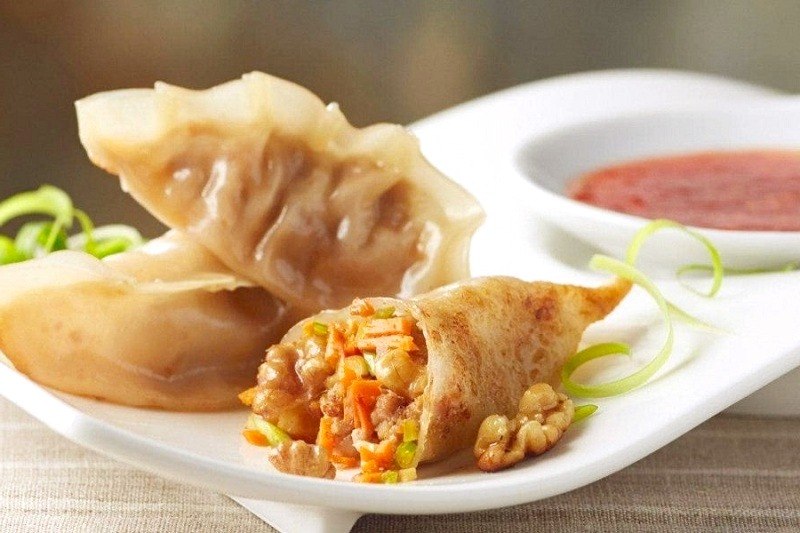 Pot stickers are a versatile stuffed Chinese dumpling that you can enjoy any time of day or night. They are quite similar to wontons in that they have a meat and vegetable filling that is wrapped in dough. They can be steamed, boiled, or fried in a pan. No matter what method one uses, pot stickers are delicious, which is why they are featured on almost every Canadian Chinese food menu. However, they are certainly not the easiest things to make. There are some different dipping sauces that take the pot sticker experience to the next level.
10. Egg Rolls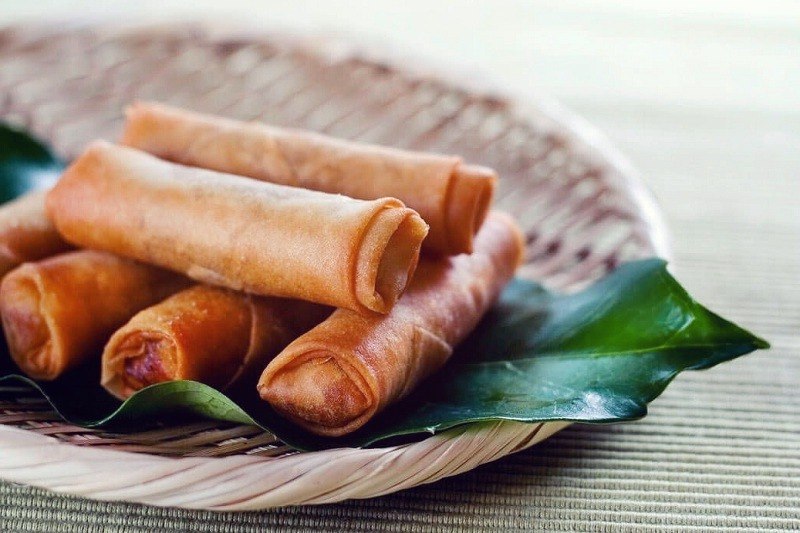 Not to be confused with their equally yummy cousin, the spring roll, egg rolls are virtually mandatory for anyone dining at a Chinese restaurant. These deep-fried delectables typically contain a blend of shredded cabbage, ground pork, and other ingredients such as carrots or broccoli. The filling is wrapped in a thick skin before being deep-fried to perfection and served hot. They are a great starter for any Canadian Chinese food main course. Just don't go too crazy on them or else you'll spoil your appetite.
The Best Chinese Restaurants in Canada
Chinese cuisine from a great Asian restaurant is hard to beat. Chinese food, unlike other fast food, can be healthy and full of veg. It also usually has excellent value. There are many reasons to make Chinese your take away of choice. Here are some of the best Chinese restaurants in Canada.
1. Perfect Chinese Restaurant
📍 4386 Shephard Avenue E, Scarborough, Ontario, M1S 1TE, View on Google Maps.
☎️ 416-297-6100
Perfect Chinese restaurant is open for an incredible 24 hours! Order any time of the day or night, and Perfect Chinese will deliver, or dine in. Perfect Chinese restaurant is also known for cooking a vast array of seafood since its opening in 1984. Choose from dishes such as silverfish, grouper, crab, oyster, shrimp, and lobster.
Seafood prices range from 12.95CND to 35.95 CND for seafood. There are specials and seasonal prices available. Other dishes range from 9.95 CND for basic meals up to 35.00 for dishes like suckling pig and Peking duck. There are also Dim Sum dishes for a few dollars, including BBQ pork bun (3.30 CND) and steamed chicken feet (3.30 CND).
2. Emerald Chinese restaurant
📍 30 Eglington Avenue, West Mississauga, Ontario, ON L5R 3E7, View on Google Maps.
☎️ 905-890-9338
Emerald Chinese specialize in live seafood. That includes lobster, Vancouver crab, shrimp, oyster, scallops, and abalone. Get all your favourite Chinese food, including whole roast suckling pig, duck, Szechuan, Sweet n Sour, Noodles, and Rice dishes. Emerald offers wedding packages from $538 for 10 persons ranging to $818 for every ten persons.
You can also get bundles for other occasions from as little as $398 for ten people. At Emerald, you can choose to dine in for lunch or dinner. Or grab a delivery from Emerald. They partner with Skip the dishes. So your hot and tasty food will be delivered fast.
3. Tremendous Chinese restaurant 600
📍 3550 Wolfedale Rd, Mississauga, ON L5C 2V6, View on Google Maps.
☎️ 905 803 8778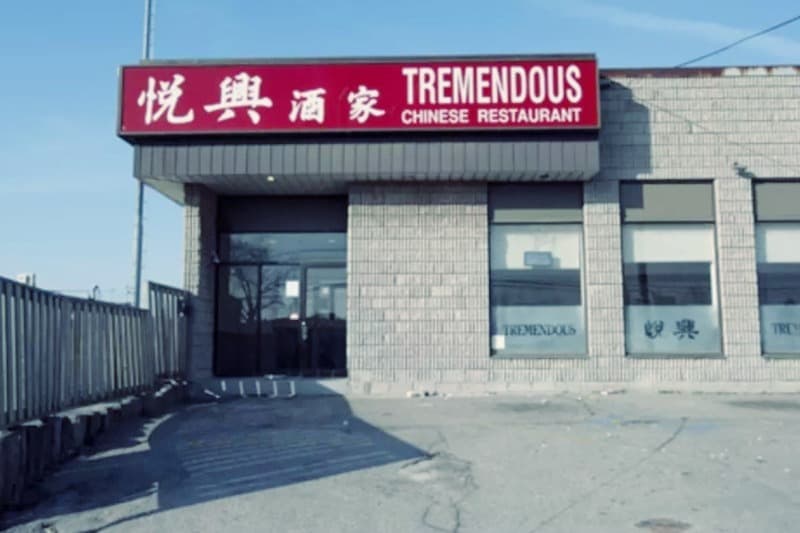 Opening hours are from 12 pm to 3 am Mon- Fri, 11:30 am to 3 am on Saturday and 11 am to 3 am on Sunday.
Tremendous Chinese restaurant offers takeaway food only. Pick up or have your delicious hot Chinese food delivered in partnership with Skipthedishes. The menu includes soup dishes from $4.00 and a double lobster for $49.50. There are all your classic favourites, including:
Chicken
Beef
Pork
Seafood
Bean curd
Fish.
There is also a selection of meals, including Dinner for One, Two, Four, and Six.
4. Caltons Chinese restaurant
📍 5010 4 St NE #14, Calgary, AB T2K 5X8, View on Google Maps.
☎️ 403-275-8181
Caltons Chinese restaurant's opening hours are a little disappointing. They are open early at 10 am but close at 10 pm. If you're okay with getting your Chinese food delivery before 10 pm, choose to either pick up. Or get Skip the Dishes to deliver the hot, tasty food. Enjoy typical Chinese food, such as:
Chow Mein
Hot Pots
Noodles
Szechuan dishes
Chow Fun
Fried Rice
Egg Foo Yung
Soups
Spring Rolls.
There is also a range of dinner ranging from two up to ten people. A dinner for ten consists of the following menu items:
Ten spring rolls
Wonton soup
Chicken fried rice
Shrimp with mixed vegetables
Sweet and sour chicken balls
Deep-fried shrimp
Cantonese chow mein.
It's priced at a very reasonable $139.95 or just $13.99 per person.
5. Royal Chinese Restaurant
📍 3587 Sheppard Avenue E, Scarborough, ON M1T 3K7, View on Google Maps.
☎️ 416-298-7897
Opening hours from 3:30 pm until 1 am.
At The Royal Chinese Restaurant, they offer a takeout service only. Pick up or let DoorDash deliver. Soups and Spring rolls are from $3.90. Their most popular food are dishes such as:
Yang Chow Pork ($11.95)
Shrimp Fried Rice ($11.95)
Sliced Chicken Chow Mein on a Hot Plate ($10.95).
These are reasonably priced, and seafood dishes are good value too. Choose Szechuan Shrimp for $15.95 and Clams with Black Bean Sauce for $12.95.
Most customers love their dishes. But there are a few critical reviews with some dishes getting poor reviews and service being slow. However, lots of people like the restaurant saying the Chinese food delivery service is fast and friendly. Popular Chinese takeout dishes include fish and chicken with snow peas and king mushrooms and pork chops.
The Best Chinese food delivery Services in Canada
When you're craving traditional Chinese food, nothing else will do. But if you've just had a bath and are relaxing in your PJ's with your second glass of wine – well, you need a delicious Chinese food delivery – and fast. Here are some of the best Canadian Chinese food delivery sites to find, order, and pay for your food.
1. DoorDash
DoorDash has several Chinese restaurants to choose from, and all have the delivery time displayed. So, if you need your food fast, you could choose Haaka Garden, who will deliver it for free in 34 minutes. Wow, that's precise and fast! DoorDash has a handy user rating score. They also have details of the cuisine they serve, such as Chinese, Thai, Halal, and Indian. The distance the restaurant is from your location is also detailed.
DoorDash is a technology company that partners Chinese restaurants with people with the time and means to work as a delivery service. To become a 'dasher' or delivery person, you'll need to be over 18, have a scooter or car, and submit your security number and license number. Choose your hours and collect food for delivery and earn extra cash. You could even 'dash' full time.
DoorDash is available across all 50 US states, 80 Canadian cities, and they are coming to Australia shortly. DoorDash connects you to local Chinese restaurants. So, order all your favourites from local restaurants such as:
Dim Sum
Noodles
Fried Rice dishes
Sweet and Sour dishes
Szechwan cuisine.
2. Skip the Dishes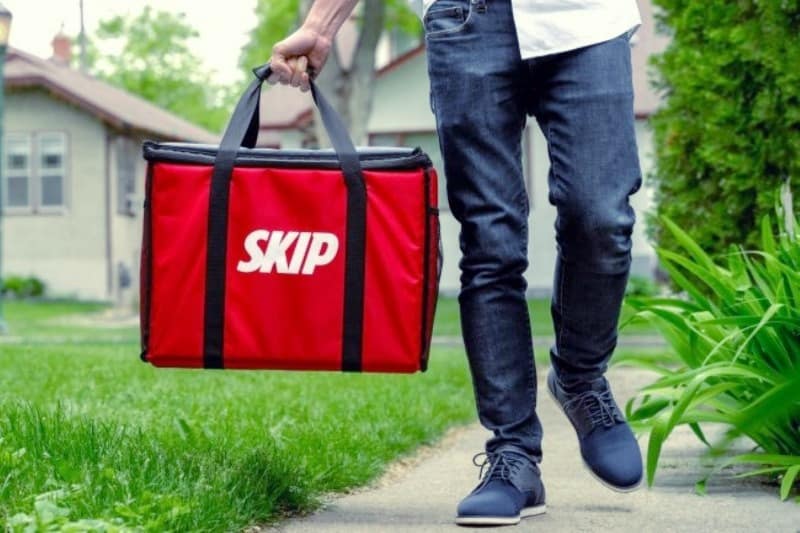 Skip the dishes are part of JustEat and serve Canada. Just like DoorDash, Skip the dishes is a technology company that connects couriers and Chinese restaurant owners. It also displays restaurants that use their delivery drivers. Order a Chinese food delivery as well as other cuisines. It's a great option if just one person wants a Chinese, and someone else is craving a pizza or Indian. Once your order has been accepted by the restaurant, Skip the dishes then find a nearby courier to deliver your food. You can then track your order.
3. Fantuan
Fantuan specializes in delivering hot, tasty Asian food in Canada. But they are a little different. Choose delivery or pick up to save 10%. However, Fantuan also runs an errand service. So, the courier can pick up items from the grocery store. Have a variety of goods delivered, such as snacks, fresh fruit, flowers, and even beauty products. Just install the app to get started. Delivery times will vary according to dishes ordered, a Chinese restaurant is chosen, and courier service you're matched with.
4. Mandarin Restaurants
Mandarin restaurants have 29 locations across the Ontario region. Can't make it to one of their locations to experience all their you can eat buffet? Then Mandarin will deliver items from their extensive Chinese food menu. To sweeten the deal, even more Mandarin restaurants are throwing in a treat. Either Chocolate Brownie Bites or delicious Coconut Macaroons. With every order! It doesn't matter how much you spend. That would be a deal-breaker if you were thinking of ordering elsewhere.
There are several locations providing takeout and Chinese food delivery. Delivery is free for orders over $20, and grab a 10% discount when picked up. There are plenty of options for vegetarians. Better still, if you want to order Chinese, but you're watching your weight, it's difficult to indulge in not knowing how many calories are in your food. Unusually, Mandarin details the calorie count of every single dish.
So, good healthy choices include dishes with lots of veg ingredients. Try:
Garlic Broccoli (270 calories)
Beef with Mixed Chinese Vegetables (360 calories)
Baby Shrimp with Almonds and Diced Vegetables (360 calories)
Chicken Chow Mein (360 calories).
Be careful of sides as the steamed rice has 700 calories, and soft noodles have 800 calories, so make sure to share them!
There are even low-calorie desserts and soups and salads that are all excellent choices if you're on a weight loss or maintenance plan. It would be best to avoid deep-fried dishes, ribs, and chicken balls. It's possible to eat almost enough calories in the Honey Garlic Spare Ribs (2850 calories) to gain a pound. If you're throwing a party with 20 guests and want catering, order a Party Menu is ranging for $11, $16, or $21 per head.
5. Food On Delivery
Food on delivery is ideal if you want tantalizing Asian cuisine, a bottle of vodka, and a bag of M & M's. Food on delivery is redefining the meaning of delivery. If your refrigerator and cupboards are bare, then food on delivery can head to the shops, while your favourite Chinese food delivery is being cooked. Then track your delivery car through the streets as they pick up what you're hankering for.
It's an excellent service if you've had a glass of wine or two. Or are just too tired and have better things to do than shop. Use the newly designed android app for a new delivery experience. It's easy to become a member of the fleet team and make a part-time or full-time income by using your licensed scooter, bike, or car.